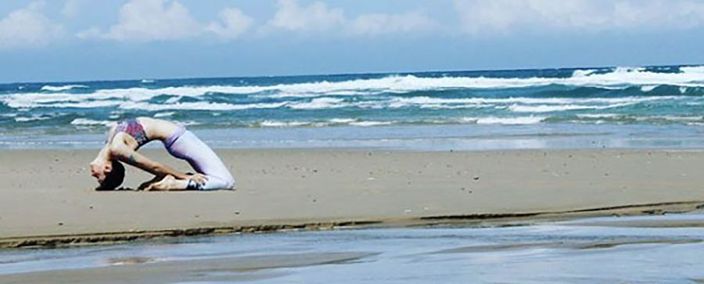 How practising yoga can make you feel happy and safe anywhere in the world
I've been ill quite a lot in my short life and discovering yoga helped me to deal with that and the emotions that come with it. So, naturally, whenever I feel overwhelmed and over-challenged by life, I turn to yoga.
Fresh off a flight from Cape Town, I was cold and pretty overwhelmed as I looked around at my new home in Northern Germany. I didn't understand anything and I didn't know anyone except my husband. Stressful! I needed to find a yoga school. 
From my very first Mysore Class with Inke Shenar in Hamburg, I realised that this practice was not like the yoga I had practised before.
The biggest differences between Ashtanga Mysore Style and the vinyasa yoga I had been practicing was the silence, the breath and the set sequence. I had to listen to my body, my breath and my mind. I had to concentrate.
For many months, I felt shy and uncomfortable in Hamburg. But Id continue to come to No. 53 Lippmannstraße; roll out my mat, breath, and wonder what life was about. Eventually, through learning the Primary Series and dealing with stiffness, injury and taking longer savasanas, I became more aware and there were fewer questions. 
Yoga Citta Vrtti Nirodaha - calm the unnecessary chatterings of the mind.
I took my first trip to Mysore, India after two years of practicing. All the voices of insecurity and ego came back louder than ever. I listened to them and I hurt myself of course. I forced myself into postures I wasn't ready for with the hope that getting them would make me feel more confident.
I learnt a lot about myself, ego and injury that trip.
The gist of it is: you do this practice for you. It is for no one else. Being able to catch your ankles in backbending doesn't make you a better person. It doesn't calm your mind anymore more than sun salutations. Doing your yoga practice should make you feel kinder and more compassionate toward yourself and others. Punkt. 
After a couple of years in Hamburg and practicing with Inke and Anna Rossow all the voices of insecurity and shyness went away and I was comfortable, almost at home.
The yoga teacher trainings and regular practice with knowledgeable teachers gave me a wonderful opportunity to deepen my practice and relationships. There is something very comforting about being in a yoga community where your teachers and fellow students smile when they see you in the morning as you rub the sleep out of your eyes. They are there to support you when you can't get into a posture and listen when you have pain.
But everything has its time and just like the practice, it was time for a new challenge. And so, after more than three years in Hamburg, my husband and I moved back to South Africa.
I now practise by myself most of the time. It requires self-discipline, but my practice has become a necessary part of my life.
With all the change and travelling, life can sometimes seem overchallenging. But every time I roll out my mat and start breathing, I am reassured by the familiarity of the sequences, and the potential of my body and my mind.
Every time I practice I feel closer to home even though I'm not sure where in the world that is.
I have learnt that we should never become too attached to the idea we have of ourselves. It could change. It should change! Let's hope that through the years of standing on our mats, wherever we are, we can be grateful for our lives.
If you are just starting on your yogic journey, here are some of the things I have learnt through the years: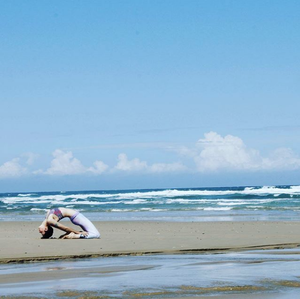 About Tamaryn
Tamaryn was born and raised in sunny South Africa. She found a second home in Hamburg and, apart from practising with Inke Shenar for three years, also did her Ausbildung and Weiterbildung with Inke. She has travelled to India four times to study Ashanga Yoga and Ayurvedic Yoga Massage. Tamaryn has now started her own Mysore programme in Port Elizabeth called Bay Yoga Club